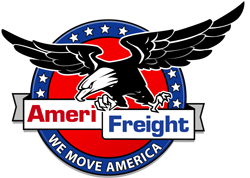 Licensing Information
MC number: 597401
US DOT number: 2238770
Company Address
215 Prospect Park Ste D
Peachtree City, GA 30269
AmeriFreight is a Peachtree City, GA-based full-service auto transportation broker. The company was established in 2007, and prides itself on offering a far more extensive range of services than a majority of other brokers. The privately-owned company currently helps customers transport cars, SUVs, minivans, recreational vehicles, and motorcycles to locations around the company.
Extended Services
Since inception, the company has attempted to differentiate itself from the competition by offering more services than its rivals. For example, as a transportation broker, the company is legally responsible only for arranging automobile transportation with a suitably licensed and insured auto transporter. In AmeriFreight's case, however, the company remains the primary contact for the customer from vehicle pick up to vehicle delivery. The company handles all complaints and damage claims, and works directly with the transport company to resolve all customer issues.
Gap Coverage Insurance Option
AmeriFreight is one of the few transportation brokers in the industry to offer customers the option of buying an insurance plan that provides gap coverage in situations where a carrier might refuse to pay for damages during transit. The auto broker has a partnership with AF Management Company under which customers can purchase the gap coverage plan for their vehicles. Customers who purchase the plan will get reimbursed up to $1,000 towards their deductible in situations where customers might be forced to use their own vehicle insurance plan to pay for vehicle damages.
Preferred Broker for the Military
AmeriFreight is a preferred auto transporter for the military, emergency services, students and the elderly. The company offers substantial discounts for customers who fall into any of these categories. It claims to be currently working with several partners around the country to offer more specialized auto transportation services for military and emergency services personnel.
Positive Reviews
This auto transporter is a fully accredited member of the Better Business Bureau and enjoys an "A" rating with the agency. According to an AmeriFreight review by the BBB, the broker has a solid track record and has had only a handful of complaints reported against it. Customers who want an AmeriFreight review can visit the BBB's website to get details about its performance over the last three years. Many customers of the company who have submitted an AmeriFreight review on sites such as TransportReviews.com also have given the broker high marks for its customer services.