Compare Auto Transport Quotes & Save!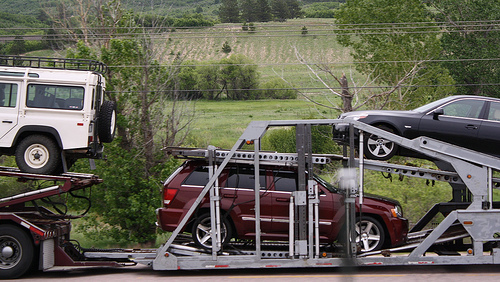 When looking for car shippers to transport your car from one location to another, comparing a
car shipping quote
is an important and useful way of saving money. Instead of hiring the first company you speak to, a better idea is to get a
vehicle shipping quote
from several companies, then compare services and features of each to find the company that fulfills all your needs.
By filling out the form at the top of this page, you can get free instant online auto transport quotes for car transport and car shipping companies in your area. Once you have those quotes, speak with each transporter independently to find out what they offer and which estimate and service most closely fits your needs.
Working with Auto Transport Quotes
Obtaining a quote from CarShippingQuote.com means that you will be provided with multiple quotes customized to your needs from car shippers that comply with FMCSA (Federal Motor Carrier Safety Administration) regulations and are qualified to help you in moving your car to its new location.
When comparing car transport quotes from multiple auto transport companies, look at the services that are offered and see which companies will provide the best care and quickest transport for your vehicle. Car shipping rates are usually dependent primarily on weight, but there are also additional costs which may be incurred depending on the type of car. Classic and luxury cars may need extra safety precautions taken to insure that no damage comes to the vehicle.
Keeping Auto Transport Companies Informed
Once you have a basic auto transport quote and start talking to car shipping companies in your area, make sure you let them know about any additional components of your car, such as camper shells and lifts, so that they can provide you with any modifications to your initial auto transport quote. If you find that one company's carrier gives a slightly higher quote, but offers additional car transport services which you want to take advantage of, it may be worth letting them know that you are talking to more than one car shipping. In some cases, there may be room for adjustment in their car shipping quote if the car transporter feels this will help them gain your business.
For the consumer, a best case scenario would be to have multiple auto transport quotes from car transport companies, a clear idea of your needs for transport, and an idea of what your budget is for transport. With these three things in mind, you can then approach each company individually, outline your needs, and negotiate the best price from the service you feel most confident in and happy with. Remember that, as the consumer, you are paying for a service which should give you peace of mind and the knowledge that your car is being protected while being shipped.
Following the above guidelines when looking for auto transport quotes should ensure your needs are met by the best carrier possible. Fill out our form to start your search for a car shipping!
Additional Resources: Online Auto Transport Quotes