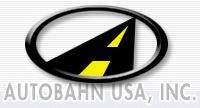 Licensing Information
MC number: 646272
US DOT number: 2242242
Company Address
12799 Archer Ave
Lemont, IL 60439
Autobahn USA Inc. is a Department of Transportation-licensed auto transportation broker based in Lemont, IL. The company provides point-to-point auto transportation services to any location in the country. Autobahn offers open truck transportation options, as well as enclosed truck options, for customers looking for extra protection for their vehicles during transit.
High-End Auto Transporter
Autobahn Transportation Services transports cars, SUVs, minivans and other passenger vehicles. The company's main specialty, however, is in helping customers move high-end sports cars, antiques and other expensive vehicles. Autobahn claims that it has helped transport thousands of high-end cars, including Lamborghinis, Ferraris, Dusenbergs, Mustangs and Camaros. The company prides itself on helping several Hollywood movie studios transport priceless vehicles such as the Time Machine in "Back to the Future", the truck in "Beverly Hillbillies" and the "Flintstone Mobile."
Special Services
As a provider of high-end auto transportation services, Autobahn USA charges slightly higher than average rates for transporting vehicles within the country. However, the company also offers services that few other auto transporters offer. For instance, all cars that are transported in enclosed carriers are covered with tarpaulin or plastic sheeting to protect against scratches and other external damage. Autobahn Transportation Services also ensures that vehicle interiors are similarly protected against damage during transit. All of the company's enclosed carriers are equipped with lift gates that are designed to prevent damage to a vehicle's undercarriage during the loading and unloading process.
Experienced Drivers
Autobahn requires all of its drivers to have at least six years of safe driving experience. The company also requires each vehicle operator to go through a battery of driving tests and training sessions before they are allowed to drive for Autobahn. All drivers are required to carry a mobile phone and a beeper to allow them to stay in touch with the company's dispatchers at all times. The company also offers a GPS tracking service that customers can use to keep tracking of their vehicles during transit.
Solid Reputation
Autobahn Transportation Services was established in 2004, and has carved a niche for itself in the high-end specialty auto transportation business. Most customers who have offered reviews of the company on sites such as TransportReviews.com appear pleased with Autobahn's customer service and its quick transit times. Most customers who have reviewed the company on such sites appear to have used Autobahn USA to transport high-end vehicles, such as Porsches and Ferraris.