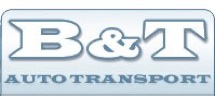 Licensing Information
MC number: 514486
US DOT number: 2233721
Company Address
13408 Heritage Way Suite 210
Tustin, CA 92782
B&T Auto Transport is an Irvine, California-based automobile transportation broker. The company offers door-to-door and terminal-to-terminal automobile shipping services to destinations around the country and to overseas locations as well. The company has been in business for the past 10 years, and has a solid reputation among customers who have offered a B&T Auto Transport review on sites such as TransportRankings.com.
Domestic and Overseas Shipping
B&T's core business is to help individuals and families ship cars, minivans, sports utility vehicles, motorcycles and other passenger vehicles. B&T Auto Transport also offers a service to help customers ship inoperable vehicles from point-to-point. The company has partnerships with a wide network of auto carriers that it uses to help customers transport their vehicles. Like other brokers, B&T can arrange for cars to be transported in open carriers or in fully enclosed automobile carriers. B&T Auto currently offers car transportation services to all locations within the U.S. mainland, and also to destinations in Hawaii and Guam.
Online Price Quote and Booking
Customers can use B&T's website to obtain a free price quote and to make their transportation arrangements. The company says it typically requires between two and three weeks notice in order to schedule a pickup. As is standard in the car shipping industry, B&T does not guarantee pick-up on a particular day, but customers who want guaranteed pickup could order it for an extra fee. The company says it requires between 10 to 14 days for coast-to-coast delivery, and between three to 10 days for shorter trips.
Federally Licensed Broker
According to information about the company on the Federal Motor Carrier Safety Administration's (FMCSA) website, B&T is licensed to transport motor vehicles, household goods, building materials, mobile homes, machinery and fresh produce. The company is fully licensed and bonded, and requires all of its partners to carry at least $750,000 in public liability insurance. Customers who ship their vehicles through B&T Auto are fully insured against in-transit damage caused by equipment failure or driver negligence.
Solid Reputation
B&T Auto Transport enjoys a good reputation for customer service in the industry. Customers who have offered a B&T Auto Transport review on transportation review sites have tended to praise the company for its responsiveness and the professional manner in which it handles customer issues. According to a B&T Auto Transport review by the Better Business Bureau, the company has received just one customer compliant in the last three years.