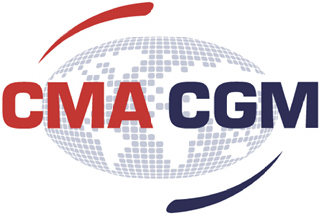 Company Address
4 Quai d'Arenc, 13002
Marseille, France
The CMA CGM Group is the largest container shipping company in France and the third largest container-shipping group in the world. The Marseilles-based firm was established in 1978 and offers a complete range of intermodal transportation services for individuals, businesses and government customers. It maintains over 650 offices and agencies in a total of more than 150 countries worldwide. Its services cover more than 400 ports of call around the world.
Massive Fleet
CMA CGM owns or manages a total of 396 vessels. A vast majority of the ships it operates are container vessels, ranging from relatively small 133 twenty-foot equivalent (TEU) coasters to massive 13,830 TEU ships. In 2012, CMA introduced the world's largest container ship to its fleet. The vessel is equipped to carry more than 16,000 TEU containers and is deployed on the company's French Asia Line linking North Europe to dozens of destinations in Asia. CMA also owns a relatively small fleet of Roll on Roll off (RoRo) vessels for transporting cars and other vehicle.
Transportation Services
The company is licensed to transport a wide range of goods, including household items, automobiles, general cargo, food and grain, and other perishables. CMA specializes in transporting extra-large cargo, such as yachts, helicopters and heavy construction equipment. The company even offers a unique cargo cruise service for customers interested in cruising the ocean on a container vessel.
North American Operations
CMA CGM (America) LLC headquartered in Norfolk, VA handles the company's U.S. operations. The company currently offers a total of 21 services mainly to destinations in South America, Central America and Canada. It also offers a few service routes between the U.S. and Europe. CMA's U.S. service is licensed to transport household goods, general cargo and hazardous items. It offers door-to-door service, door-to-port, port-to-port and port-to-door services to dozens of locations in the Americas and Europe. The company is currently ranked among the top ten container shipping firms by capacity in the United States. According to an annual CMA CGM review by the Journal of Commerce, the company's operations and revenues have been impacted in recent times by the tepid economy in the United States and Europe.