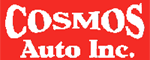 Licensing Information
MC number: 385773
US DOT number: 884274
Company Address
1107 E Elm ST Suite C
Fullerton, CA 92831
Cosmos Auto Transport Inc. is an auto transportation broker based in Fullerton, California. The company helps individuals, businesses and car dealers transport automobiles from point-to-point around the country. The company arranges auto transportation services to all 50 states and to destinations around the world.
Established Business
Cosmos Auto was established in 1999 and has emerged as a relatively major auto transportation service in the Greater Los Angeles area. The company claims to ship about 500 vehicles per month, or roughly about 6,000 automobiles per year. It works with a large network of business partners to ensure that it can meet the requirements of individual customers, as well as those looking to transport multiple vehicles at a time.
Point-to-Point Auto Transportation Services
Cosmos Auto Transport helps customers transport vehicles in open carriers and in enclosed carriers. Unlike many transport brokers who require between two and three weeks notice in order to arrange a pickup, Cosmos claims it requires just seven days to accommodate most orders. It does accept rush orders for an additional cost. All prices include basic insurance coverage for the vehicle while it is in transit. Cosmos ships inoperable vehicles and exotic vehicles for an additional cost as well.
Transit Times
Cosmos does not guarantee a pickup date, but says it tries hard to accommodate most customer schedules. It offers a no-questions-asked, full refund on any order that is canceled before the vehicle is assigned for pickup. Cosmos Auto Inc. does, however, guarantee coast-to-coast shipment in less than 10 days, and shipments over shorter distances in between 5 and 7 days. The company allows customers to receive quotes, place orders and track their shipments online.
Favorable Reviews
According to a Cosmos Auto Transport review by the Better Business Bureau, Cosmos does an adequate job in meeting customer expectations. The company has received a handful of complaints in the past few years. In most cases, the complaints have to do with relatively minor issues such as missed delivery schedules or late pickup. The company has successfully resolved all of the complaints it has received in the past three years, according to the BBB. Customers who have offered a Cosmos Auto Transport review on transportation review sites, such as TransportReviews.com, have tended to praise the company for its friendly service and prompt responses to customer inquiries.