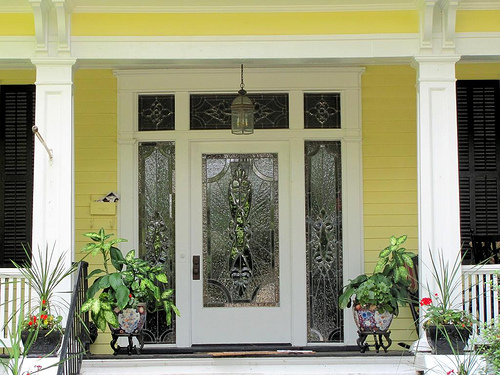 Door-to-door car shipping companies offer the most convenient way for individuals to ship a vehicle from one location to another. As the term implies, door-to-door shipping is a process in which a car is picked up from the customer's home, transported to its destination and dropped off at the customer's home. You can use door-to-door auto transport services to ship a car anywhere within the United States, or to locations in other countries as well.
Door-to-Door Shipping Options
Many auto-shipping companies these days offer door-to-door services as a default option for shipping cars within the United States. When you sign up for door-to-door service, the shipping company will send a truck to your home, load your car in either an open truck or an enclosed truck, and transport it to your desired location. In most cases, auto shipping companies transport cars in open carriers, which are basically large uncovered trucks that can carry between 10 and 12 cars at one time. If you are concerned about your vehicle getting damaged during transit, you can have the door-to-door service transport your car in a fully enclosed truck.
Not for Everybody
Door-to-door auto transport services offer a great way to ship a car, but it may not always be suitable for everybody. The location where you want your car picked up from or dropped off is a crucial consideration. Sometimes, a city ordinance or a local regulation might prohibit a car-carrying truck from coming to your home to pick up or deliver your car. Similarly, an auto transporter may sometimes not be able to pick up or drop a car off at your door if you happen to live in a neighborhood with narrow or crowded streets. In such situations, the auto shipping company will typically arrange to have your car picked up or dropped off at a mutually convenient location close to your home, such as a nearby shopping mall or parking lot.
Factors to Keep in Mind when Choosing a Door-to-Door Shipper
There are several considerations you need to keep in mind when selecting a door-to-door car shipping service.
Always compare price quotes before choosing a door-to-door shipping service. Use online quote comparison sites to obtain and compare quotes from multiple vendors.
Make sure that the door-to-door auto transport services that you consider are fully licensed, bonded and insured. Use the Federal Motor Carrier Safety Administration's (FMCSA) website to verify the auto-shippers credentials before entrust your car to one.
If you absolutely want the car transporter to pick up or drop off your car at your door, try and find a shipping company that uses small trucks to do car pickups and deliveries. Many large auto transporters offer this capability, so it pays to shop around a bit.
In some cases, trucking companies might give you a choice between door-to-door shipping and terminal-to-terminal shipping. Try and choose a company that offers door-to-door car shipping as a default option because they are usually cheaper.