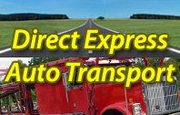 Licensing Information
MC number: 479342
US DOT number: 2231879
Company Address
101 Lucas Valley Road, Suite 202
San Rafael, CA 94903
Direct Express Auto Transport is a $20 million, independently-owned auto transportation broker based in San Rafael, CA. The company provides point-to-point car transportation services to all 50 states in the country and to Hawaii as well. Direct Auto ships an average of 21,000 vehicles each year making it one of the largest car shipping companies in the country.
Countrywide Shipping
Direct Express currently offers door-to-door shipping of cars, trucks, sports utility vehicles, minivans and recreational vehicles. The company also provides classic car transportation services for those looking to transport expensive and exotic vehicles. Direct Express works with a roster of over 7,000 independent truck owners and carriers to arrange car transportation services for its customers. All truck owners and operators have to be fully licensed, bonded and insured before they can work for Direct Express, according to the company.
Solid Reputation
Direct Express Auto Transport was established in 2003, and has grown to be a 15-employee operation with a reputation for solid customer service and very competitive pricing. The Better Business Bureau has given the company an A+ rating in a Direct Express Auto Transport review. The company offers a convenient online booking system that allows potential customers to obtain a free quote and to make their reservations online. In over 90 percent of the cases, car transportation requests that are placed online are fulfilled within one week. The company currently maintains and operates three other websites, including AutoTransportDirect.com and AllProAutoTransport.com, that customers can use to obtain quotes and place orders.
Open Carrier and Enclosed Carrier Transportation
Direct Express provides both open carrier transportation and enclosed carrier services to destinations around the country. The company claims that it can accomplish most coast-to-coast moves in less than 10 days, and most interstate moves in under five days. Like many auto transporters, Direct Express requires a nominal security deposit before a vehicle can be transported. Customers can pay for the deposit using their credit cards or certified checks.
Customer Reviews
Customers who have offered a Direct Express Auto Transport review on sites such as TransportReviews.com typically tend to describe the company as easy to work with, prompt and professional. Customers who want to do a Direct Express Auto Transport review can submit one directly to the company. All customer testimonials are posted publicly on the company's main website for others to review. Direct Express Auto Transport is a member of eBay, Cars.com and AutoTrader.com