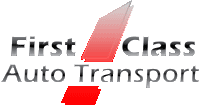 Licensing Information
MC number: 2242133
US DOT number: 644830
Company Address
3590 Lawson Blvd
Oceanside, NY 11572
First Class Auto Transport is an automobile transportation company based in Oceanside, New York. It provides door-to-door auto transportation services to destinations around the country. The company maintains offices in New York, Florida, California, New Jersey, Illinois and Texas.
Federally Registered Auto Transporter
First Class is registered as an auto transportation broker with the Federal Motor Carrier Safety Administration (FMCSA). However, the company claims to use its own fleet of open-carriers and enclosed trucks to pick up and deliver vehicles from point-to-point. The company was established in 1999, and, currently, helps customers transport cars, SUVs, minivans, recreational vehicles, motorcycles and boats. According to the FMCSA's First Class Auto Transport review, the company has a clean safety record for at least the past three years.
Auto Shipping Services
First Class Auto Transport typically requires at least three weeks advance notice in order to schedule a vehicle pick up. Like other auto transporters, the company does not guarantee a pickup date or a delivery date. Instead, it gives customers a seven-day pickup and delivery window. First Class does accommodate immediate pick-ups and rush delivery orders for an additional fee. The company transports oversize vehicles and inoperable vehicles as well for an additional fee. It also offers an exotic car transportation service for customers looking to transport high-end luxury vehicles, antiques and classic automobiles.
Transit Times
First Class typically requires between 10 and 14 days for transporting a vehicle from coast to coast. The company's cross-country auto shipping prices start at $699 and climb up from there, depending on the type of vehicle being shipped and the shipping options that are chosen. All prices quoted by First Class Auto Transport include basic insurance coverage. Customers who want comprehensive coverage for their vehicle during transit can purchase the additional protection through First Class.
Customer Reviews
Customers who have offered a First Class Auto Transport review on the company's website have generally tended to note its prompt service and quick response to service related questions. The company has the distinction of getting a Five Star rating from customers on transportation review sites such as TransportReviews.com. According to a First Class Auto Transport review by the Better Business Bureau, the company has received just one customer complaint in the last three years.